Fit Chimney or Flue Liners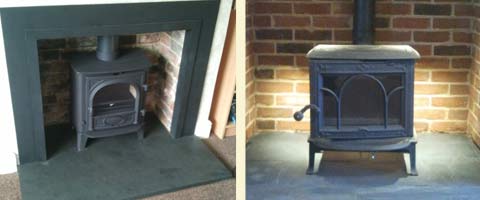 We supply and fit all types of chimney and flue liners
It is very common to find that old chimneys are in a poor condition and can leak fumes, particularly if the flue is not lined. Over time smoke, tars and acids absorbs into the chimney walls and eat away at the mortar joints causing staining to the exterior stone or brickwork, and leakage of dangerous fumes into your home. Large and uneven flues can also create poor up-draught causing smoke to blow back into the room.
In 1965 Building Regulations required new chimneys to be built with suitable flue liners to protect the chimney structure and provide a smooth flue for efficient performance of the heating appliance. Old chimneys should be checked by a professional competent person before being put back into use. This should identify what work or repairs are needed. It is prudent, and often essential, to fit a new liner to provide a smooth sealed flue way that ensures maximum safety and efficiency. Most stove and fire manufacturers require their appliances to be used with chimneys that have a suitable liner.
Call us today for a no obligation inspection and quote... be safe, don't be sorry!!
We fit chimney and flue liners in Ipswich, Manningtree, Colchester, Chelmsford, Southend, Ilford and all points in-between.
More
What we do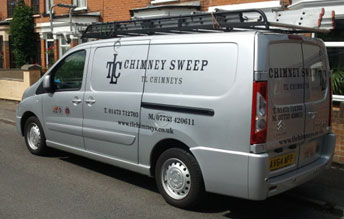 TL Chimneys offers a variety of chimney sweeping services to the general public, including residential and commercial customers, using the latest methods to achieve the best results and to ensure your chimney and flues are clean and safe.